GDPR: Compliance ToolKit & Documentation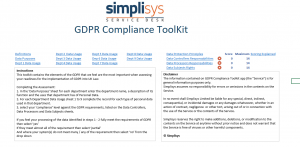 Ensuring that your data processing is complaint with the GDPR is far from straightforward. You will need to understand your roles as a Data Controller and A Data Processor. You will need to know the rights that Data Subjects have.
Then you need to identify all of your data processing that falls under the remit of GDPR and ensure that the processing, the management and business rules around it are fit for purpose.
And finally all of this needs to be documented to evidence that you have undertaken the work required.
This toolkit contains the elements of the GDPR that we feel are the most important when assessing your readiness for the implementation of GDPR into UK Law.
The toolkit takes you through the steps of identifying Personal data being processed in each department of your organisation, Identifying the business reasons for the processing and the justifications that allow you to process the data and finally identifying your compliance with the GDPR in the three key areas:
Data Controllers responsibilities
Data Processors responsibilities
Ensuring the Rights of Data Subjects.
Download the Toolkit Documentation
---