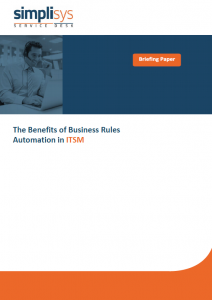 Within this briefing paper "The Benefits of Business Rules Automation " we highlight the key benefits that IT managers should be enjoying from their ITSM solution.
Unfortunately, many are struggling on with legacy systems that not only fail to deliver useful reporting, management control and user-friendly interfaces but are also very expensive to maintain and even more to modify to meet specific your needs.
The paper focuses on the ways that business process automation, as found within modern ITSM solutions such as Simplisys Service Desk, is helping IT departments to deliver excellent service to the organisation in a consistent policy driven  manner while improving both customer and staff satisfaction rates.
Please download this guide with our compliments and get in touch if you would like a no-obligation assessment of your current system and how Simplisys Service Desk could help to lower your IT service costs and improve your levels of customer service.
---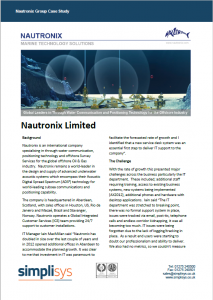 Download the Nautronix Case Study to find out how updating their legacy system to Simplisys Service Desk has added valuable functionality while greatly reducing the total cost of ownership of their ITSM system.

Download the Nautronix Case Study here