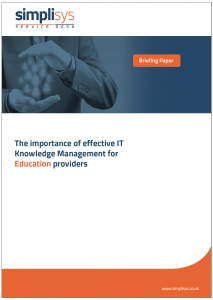 Within this briefing paper we focus on the ways that 'integrated and dynamic' knowledge management, as found within modern ITSM solutions such as Simplisys Service Desk, is helping Education providers to achieve real cost savings while improving both customer and staff satisfaction rates. We use a recent study conducted by us to reveal some of the reasons why raising First Contact Resolution rates is so important. The study helps to explain the value that modern ITSM applications can deliver and how rapid return on investment can be achieved.
Calling on many years in the industry, Peter Lench, MD of Simplisys Limited and developer of Simplisys Service Desk, has published the "The importance of effective IT Knowledge Management for Education providers" Briefing Guide in order to highlight the key benefits that IT managers within Education are seeing from the Knowledge Management capabilities built in to their Simplisys ITSM system.
Please download this guide with our compliments and get in touch if you would like a no-obligation assessment of your current system and how Simplisys Service Desk could help to lower your IT service costs and improve your levels of customer service.